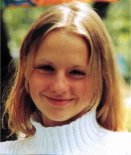 Personal Data:
Name: Magdalena Barbara Anastasia Grzywa
Residence: Czernichów Polska
Profession: Sports, Student
Date of birth: September 15th, 1979
Trainer: Bondaruk Roman
Brandmarks: Sponsors & Suppliers
Skis: Atomic
Wax: Toko
Poles & Gloves: Yoko
Ammunition: Lapua
Clothes: Craft, Adidas
Shoes: Salomon
Rifle: Anschütz
Glasses: Oakley




Hi there, my name is Magda and come from small village in Poland, named Czernichow, near Krakau. I am 23 years old and do the biathlon since 1995. Meanwhile I am also studying in AWF, a famous sports academy in Krakau, which offers me the possibilities to find a perfect way of connecting professional biathon sport with education. Since I was a child, sport was always first thing in my life and I finally made it possible for me to make my leisure time activity also my profession. I also have couple of different interests as music, dancing and reading and often it happens that I spend nice evenings with my books. I really like to go shopping cause fashion is a hobby of me and afterwards enjoy a cappuccino in a bar and talk to my friends.I am interested in the whole world and people and due to my plenty of travellings I have a lot of friends throughout the whole world. I am very ambitious, sometimes may be a bit too much. I really love to smile and be in good mood. But sometimes I could get very angry if people are unfair to me and tell untrue stories behind my back.

My family is one key point in my life and for the future I am planning to have a happy family with kids and pets - cause I love pets. Meanwhile, due to the travellings in sports it is very hard to see my family quite often and this hopefully will change after I have finished with professional sports, then family will be my absolute first target.

I also want finish my university with diploma that gives me the possibility to work as a professional coach and teacher in sports. I would like to open my own team and give the young athletes best preparation and possibilies to reach the maximum in their carreer. By the ability using all my own experience young sportsmen and -women could really profit of this. I am planning to finish my studies within the next three years.
I know it is very difficult to describe yourself, but I hope I presented my personality in an acceptable way.